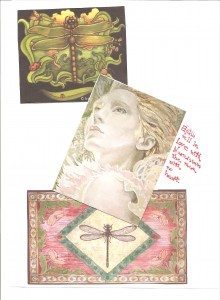 Coming up with novel ideas often begins for me with an art project – a collage of images that speak to me about a particular character whose voice begins as a distant call and then grows louder and louder.
This semester I have the pure joy of encouraging ten students to listen for that character and put him or her on the page. This particular group of students wants to write novels for middle grade and young adults. Seeing as young adults are my favorite audience, I'm looking forward to encouraging creative play at first drafts that can really grab a teen's attention.
We met last week for the first time and I loaded my passionate charges with a ton of work that will help them to see that children's writing can be quite challenging and complex.
I assigned Laurie Halse Anderson's  SPEAK so students can get a handle on this novel's multiple layers. If you look inside the cover of my copy of Speak, you'll see that I write all over the cover pages of books I admire, jotting down page numbers where language might indicate a shift in character growth or a line that indicates a sub-plot has become more signficant. I'm not really trying to teach students to deface books so much as I'm trying to encourage them to learn from practicing writers out there who are masters at their craft, masters who have taken a leap, actually, from craft to art. Laurie's work always does that for me.
 My students have also been assigned to bring in the first pages of their own new work.  While some knew exactly what they wanted to write, others were in a panic.
I suggested they go to the mall and pick a teen to paint with words, then pick a second teen — he or she doesn't even need to be in the same group, and, in fact, serious tension can be created by choosing a second teen from a completely different group. Write up character sketches for each teen and then have them meet at the mall or in a hallways in school, or in a detention room. Have them negotiate over something they both want.
Sometimes, I go to youtube and try to find my characters through new music. I used this character development technique to create the characters I'm working on now, two characters locked in unlucky love who came together in a garage band. But I was having trouble seeing them. I looked through photographs and listened to music and came across Orianthi and this outstanding youtube video Highly Strung. I totally love her blue nails and the way her hands dance and slide all over that guitar. 
  So this has become the basis of my character, Evie. 
This effort at character development reminds me a bit of when I was a little girl. I'd make my own paper dolls and then create clothes. I play at wardrobe with characters in much the same way. So, when I'm really stuck for details, you'll often find me looking for clothes on Anthropologie or ethnic designer sites for Evie. She tends to wear suede jackets and fringed boots with long peasant skirts or jeans. Evie is totally a boho sort.  Her issues are with her boyfriend, the band's lead singer and harmonica player, who wants to push the relationship a bit further and faster than she's willing. Poor Evie is thinking she's not that into him even though they share their music.  
I'm curious, what works for you when you're developing characters?