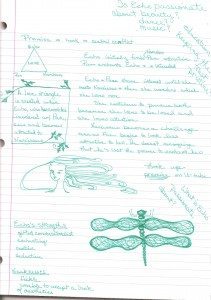 Hey folks,
I'm preparing to teach new grad students how to workshop short stories and so I"ve been scrabbling around the internet to find articles on workshop.
 I think scrabbling is the perfect word for the sort of hit and miss, pick and choose, word- choice-google-search thing I do when I'm looking for the perfect reference.  But this is an aside to workshops so let's get back on topic.
If you're a writer, you've experienced workshops where you come away with the knowledge that you've got a good start or something you've worked and re-worked might even be ready to send out. But you've also expienced at least one deadly workshop where you've gone home, crawled into a corner, and licked your wounds. You might have vowed never to write again because now you know you're a truly crappy writer.
That doesn't have to happen if you truly prepare yourself for workshop. And so here are some guidelines:
For the workshoppee—
1.  Bring work that you're truly prepared to work on, not a polished piece.
2.  Bring an attitude that you're prepared to listen and learn. In fact, come to workshop with a pen and notebook so you can take notes about what's working and what can be strengthened in your work.
3.  While workshop members are discussing your work sit silently and take lots of notes.  There are days I'm feeling like a confident writer and so my tendency is to only hear the good stuff; then there are the days when I'm feeling totally disheartened and so I only hear the bad stuff. I've learned that taking notes about EVERYTHING that is said is the only way I'm going to know what others saw on the page. When I return to these notes, I get an unfiltered look at what actually occured in my workshop.
4.  Bring questions that demonstrate you've taken the time to really think about your own work and the strengths and weaknesses you see on the page.
For the workshopper —-
1. Read the work carefully and analytically. When I schedule workshops, I have students submit work to one another the week before the piece is to be workshopped. I do this so that writers become careful readers for one another. As Jeremiah Chamberlin has said  in his article, "Workshop is not for You," "You become a strong writer by writing critiques, not reading them. Being forced to analyze the effectiveness of other writers' stories and to then provide them with clear, concise, specific suggestions for improvement will do more to develop a writer's craft than almost anything else. Through this process writers develop a stronger objectivity about their own work, sharpen their critical thinking skills, and hone their language."
2. Prepare comments that speak to craft  — Does this writer have strong, believable characters? If so, why? If not, what specific lines make you question the character's believability? Is the dialogue effective? Does the plot build or is it buried in unnecessary back story or details that are pretty but fail to move the story forward? Does the character exhibit sufficient motivation? Does the character act appropriately his or her personality? (I often recommend my students read developmental psychology books to learn more about personality development).
3. Avoid saying, "I liked…" of  "I didn't like…." Rather talk about strengths and areas of needed development.  This is a great way to keep your own tastes from making another writer inferior. You can and should avoid making subjective comments about genres that you're not fond of and about conflicts or characters that you're not always comfortable experiencing.
This is only the beginning of creating strong workshops though. I also encourage my students to read as much as they can about workhops techniques from other writers. One good place to start is to look at  writer and writing coach, Judy Reeves' website. She's got some amazing insight into workshops that work.
Now to turn to my own revising!
Many hugs to all!
Ann
Oh, wow! I can't believe how fast this summer went. I have meetings at school tomorrow and just spent the last few days updating syllabi and preparing one of the busiest fall schedules I've ever had. I don't know whether to be jumping up and down with the excitement or overwhelmed.
That's not true. I'm jumping up and down with the excitement of this coming semester. The official book launch will (in case you missed previous mentions) be Wednesday, September 29, 8 pm at the Little Read Book on State Street in Wauwatosa.
Then I'll be traveling on October 14 to Port Arthur, Texas for a talk on biography and Janis Joplin Rise Up Singing at the Gulf Coast Museum. While there, I'll be part of the unveiling of some new art that depicts Janis.
On October 16 and 17, I'll be in Austin for the Texas Book Festival. I wonder if I'll be swayed to wear cowboy boots and a cowboy hat? My preference would definitely be red, or maybe a hat with feathers in the brim — not that I'm considering this already…..
I'm also looking forward to teaching new writers in the Mount Mary College graduate writing program and I'll be working with thesis students. I've seen previews of some of my students' ideas — a critical thesis on villains and villainy, a collection of short stories that are centered in mid-Wisconsin, a young adult novel about a boy struggling with his identity even as his father rejects him for being different and so more.
Keep watching this site and I promise to keep it updated with book signing locations and dates and to keep you informed about reader responses to Janis. 
Later!
Ann
Hey all,
Isn't my new web look fabulous? It's the perfect opening to begin a countdown of Janis Joplin Rise Up Singing. Do I need to remind you it's coming out October 4?
It is.
I'm planning to celebrate this biography with a book launch and karaoke in Wauwatosa, Wisconsin with the lovely Indie booksellers at Little Read Book, followed by karaoke at The Chancery which is right next door. There will be lots of fun and prizes including psychedelic gel bracelets and T-shirts for the best voice and look-a-likes. The plan is to get the Chancery rocking like Woodstock. And here's the best news: You're all invited.
Meanwhile, you can pre-order the book from your favorite bookstore and keep track of the countdown with tweets and Facebook updates.
Please let me know what you think of the new look! And stay tuned!!!!!! (I didn't really just use a million exclamation points, did I?) I'm so excited.
xo
Ann