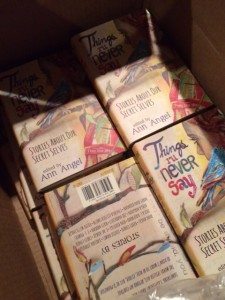 The best part of having an upcoming book birthday is the way books begin to arrive months before the book's actual birthday. The ARCs come first in a plain brown box, followed by that first author copy. And then, early in the book's birthday month ….. THIS…..
So now it's time to figure out some giveaway games. Hhmm. Maybe I should ask people to reveal a secret on a FB comment. Then I can randomly select the secret?
Here's a secret about the anthology — one author is a newly published author. Her work was selected from submissions the teaching authors were allowed to invite. I'm listing the authors here. Can you figure out who is new?
With stories by:
Ann Angel
Kerry Cohen
Louise Hawes
Varian Johnson
erica l. kaufman
Ron Koertge
E. M. Kokie
Chris Lynch
Kekla Magoon
Zoë Marriott
Katy Moran
J. L. Powers
Mary Ann Rodman
Cynthia Leitich Smith
Ellen Wittlinger