It is always, always such a treat to begin a semester with new writers. They come    into class a bit timidly, fearful I think, that the stories of their hearts could be crushed with criticism in workshop. My job is to show them that they've got the imagination and talent and now it's time to perservere and develop the self-discipline to revise — not once or twice but maybe even 15 times. I spend a lot of time explaining that workshop is not about likes or dislikes and it's not about personality; it's about craft. Talking about what's on the page is a way to help writers translate stories using the tools of craft so that the world can feel the way they beat real as blood in our hearts. My new students' first workshops are occuring over this week and next.
I love watching them shift and develop as they learn that we do indeed see a character's fatal flaw and we also see the character's goodness and need and desire. As workshop progresses and students' see that others recognize the story conflict and also know more about the character through action on the page than from backstory — so go ahead and cut it all — they start to relax. Their shoulders come down, they start to breathe, they take notes and, after their first workshop, they ask questions about how to show it better.
Each semester, I get to witness such a transformation in each of my students, from student to passionate writer. And I absolutely know I love my job because I get to witness this transformation everytime.
On another note — there's some really wild and fun stuff happening —-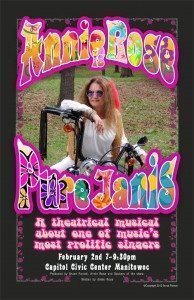 Who would think that there's a rocker who has the powerful voice and looks of Janis Joplin and who would think that we'd be getting together to share our art? But we are!
Annie Rose will be performing her tribute Pure Janis On February 2, 2013 at 7 pm at the Capitol Civic Center Manitowoc in Wisconsin. I'll be joining her to sell and sign copies of Janis Joplin Rise Up Singing. Come along — listen to the music, learn why Janis still speaks to audiences and influences singers and writers alike. Celebrate with us!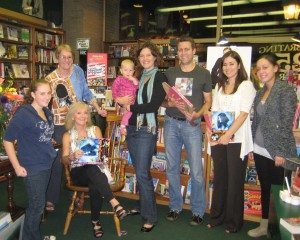 Yesterday I went with my husband to a sports' superstar's booksigning. And, because it was a book signing, we both bought a copy of the book along with the 400 or so folks standing in line with us.  I figured I'll donate the book to a fundraiser for a friend's grandson who has a seizure disorder and will probably be wheelchair bound the rest of his life and, if I want to read the book, I'll borrow my husband's copy.
As we waited in the line which wound around a gym, my husband asked if I wouldn't love to have that many people at one of my book signings. "Sure," I said, "but it's been awhile since I've hit a 3-pointer."  The line moved quickly into a cordoned off area where a burly woman in a hot pink sports polo slapped her arm out at my chest and barked, "Stop here! Hand him the book!" In case I didn't get who the burly woman meant, she pointed across my chest to a guy who doubled as security and official book opener. He opened the book to the wrong page for signing and set it in front of the superstar who signed it, smiled and handed it back. And I want to pause here to tell you that I will always like and admire this superstar for that shy smile.
But I thought about my husband's question, the idea of having that many folks waiting to get a book signed by a superstar and I answered my husband's earlier question with a second, more honest answer. Sure, I'd love to sell as many copies of Janis Joplin as this sports superstar. But I like my book signings better. I get to connect to each reader who waits in line. I get a moment to talk with readers about Janis or who and what else inspires us. They share what they're reading or what they loved about the last book they picked up. And I go home with a booklist and feeling like I've just made a whole new group of friends and I can't wait to write for them again.