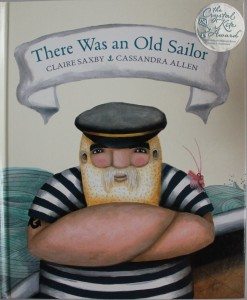 Claire Saxby writes fiction, non-fiction and poetry for children. Her poetry appears in magazines, anthologies, on train walls and in museum education resources.
Claire's picture book publications include Ebi's Boat (Windy Hollow Books), illustrated by Anne Spudvilas, which was a CBCA Notable Book in 2007. Her most recent picture book is There Was an Old Sailor (Walker Books Australia), a nautical take on an old rhyme, illustrated by Cassandra Allen. It was shortlisted for the 2010 Speech Pathology Awards and for the 3rd Korean Picture Book Award, and won the SCBWI Crystal Kite Award for Australia/New Zealand region. Her most recent book is Freaky Fact or Fiction: Human Body (Hinkler Books), the first of her books to combine her health-worker past and her writing present.
Coming soon …. a look at Crystal Kite winners……. so stay tuned
I've taken over directing the graduate English program at Mount Mary College. There might be some courses readers are interested in taking so please feel free to wander over to the Mount Mary website and browse course selections for the English graduate program. 
I'm also deep into writing a novel and find I can't talk about it while I'm writing. I'm also anxious everytime I step away from it to do other things. My goal is July 1 and I'm almost there. I'm letting horrible things happen to my main character and I do so hope she doesn't hate me for it. But the way I look at it, she's got a lot she can learn from her conflicts.  This novel has been tough to write because I didn't want it to be about what it's becoming about — emerging sexuality in our culture. I wrote a piece for The Pirate Tree on how difficult it is not to censure myself when I'm writing about these tough, tough cultural issues.  Here is is in case you missed it:
I'm staring, stunned, at a turn of the path in which my most recent work is taking me. It wants to be about sex. Not sexuality. Sex. I wanted it to be a sort of fantasy, one that would take you back to the Greek Myths where Zeus could make the lightening strike and Hera could steal voices. It wants to tell the stories of three sisters, two of them Baby Mamas who walk daily down the day care hall at Tower high school, and one who is reconsidering her vow of chastity because she feels like the last virgin ever. I, or at least the editor on my shoulder who doesn't want to go there, want this novel to move back to that other path, the one that allows playful but innocent flirtation, the one where Echo gets to keep her vow of chastity. But no. My novel wants to show the emotional cost of hookups and what happens when girls end up wanting not just bad boys but really bad boys.
I think the novel about sex will win this little editorial battle. So, instead of worrying, I'm taking a closer look at other YA novelists who walk the scarier path without flinching from their inner censor.
There's Ellen Hopkins whose most recent book, Tricks, looks at teen prostitution through the eyes of five teens who seek their independence but find themselves entrapped by emotionally abusive relationships that masquerade as love. They all turn to turning tricks as their lives move further and further from what they had expected. As the teens' lives, told in poetic verse, spiral downward, their paths converge and hopelessness turns back to hopefulness. Other topics Hopkins has explored include addiction and dysfunctional families. All are raw and gritty and real. Despite finding herself on challenged and censored books lists, bestselling author Hopkins doesn't flinch from writing the story that needs to be told.
 She says, "I am mindful of my audience, which means respecting them. There are words I won't use because I find them offensive. The f-word isn't one of them, though some might find it worse than some of the ones I refuse to write. I don't listen to censors, not even the one who sits on my shoulder, asking if something is age-appropriate. Because here's the thing. What's inappropriate for one person of any age is totally necessary for another. I hear from readers who were raped at six or turned on to drugs by their parents at ten. They need to know they can be okay… that there's a way out. That they're not alone. I write for them, and I write for those who need to understand them rather than judge them. So, no. I don't listen to ANY censors–external or internal."
Joining Hopkins as a frequently censored and challenged author, Lauren Myracle says she writes what is true to character in her story. "I don't worry that something I put on the page will create problems with book sales. I consider if this is true to the character and true to the story." The characters in Myracle's novels behave and say things that are honest and funny and sometimes a bit bawdy, but real and endearing. Still, Myracle gets hate mail from conservatives who are offended by her realistic use of language and even about such scenes covered in her middle grade novels like one in which an older sister teaches her little sister how to use a tampon.
Myracle's most recent book, Shine, is a bit of a departure from the day-to-day socially networked lives of the characters in her popular books structured as IM chats. This novel is a young adult mystery about a hate crime. Set in North Carolina, it centers on a teen girl's search for the people who brutally beat and leave her childhood friend for dead. While most in the community think the beating was committed by outsiders, 16-year old Cat discovers that poverty, clannishness, drugs and intolerance can lead members of her own small town to brutality. While the novel has been called "smart, fearless, and compassionate," Myracle admits her mother asked her to remove a racist name used in the mountain regions of North Carolina to rank on poor whites because it was so offensive. Readers will need to get the book to learn what the phrase is, but Myracle says, "I had to keep it in because these words show how hate and intolerance fester through generations."  
Both authors have spoken out against censorship and, while it might have been easy to avoid censors by homogenizing their work, both authors have chosen to walk the path of truth, no matter how dark or real, because this is where real lives happen and this is where teens can learn the difference between falling down and redemption.
I'm going to join them.