Guess who got tenure AND a promotion at Mount Mary College? I did! I did! I returned to my office from a serious and scary meeting that ended with smiles in the VP's office to find these lovely roses from my friends in the English Department on my desk. I'm hoping that having this in my past will free up more writing time. BUT……………JANIS JOPLIN RISE UP SINGING…..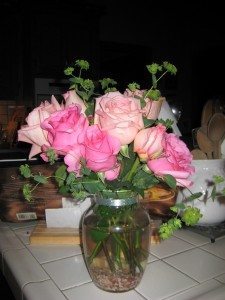 is continuing to get some great nominations. The book has been nominated for the Amelia Bloomer Project. I wonder how Janis would feel about being listed as a contender on a feminist book list? I, personally, think it's great! That leads me to the ALAN (Assembly of Literature for Adolescents) Workshops…..  
I'll be presenting in Orlanda on Monday afternoon along with another amazing nonfiction writer, Ann Bausum whose nonfiction books have won some of ALA's largest awards. We'll be talking about the Search for Self in History, Biography and Memoir.
Finally, my daughter Amanda and I co-edited a book, Silent Embrace, Perspectives on Birth and Adoption. (The book is available on Amazon or through the publisher, Catalyst Book Press.) We'll be talking about open and opening adoption on Wisconsin Public Radio on Wednesday morning, November 24 at 8 am. That evening at 8 pm, we'll be talking again on the show Adoption Angles on Momtv.com. I hope you have a chance to listen!
So check us out if you have a chance!