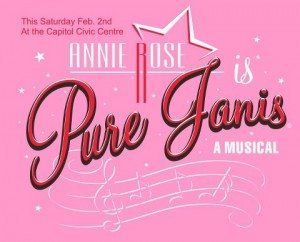 Here are the details:
The Annie Rose Band is producing a Janis Joplin Tribute to be held Saturday, February 2 at the Capitol Civic Center. And I'm gonna be on stage! Really! It's true! I'll come on at the beginning and say hi, tell folks why I love Janis so much I wrote a book about her! And then I'll walk off-stage and listen to all things Janis. For the record, I won't be singing, not even lip syncing, which is a very good thing. Annie Rose can handle the singing herself. She has an amazing, amazing, amazing — is that too many amazing's? I don't think so — voice. I'll try to post photos and maybe even a video next week.
Here's Annie Rose……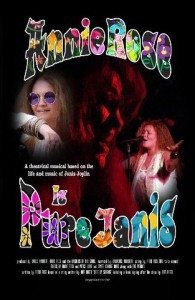 After the concert I'm going to go back to being just me. I'll be back to reading student work and writing. Oh, I'm also gathering British consent forms from living and recently deceased subjects for a new book due out in September. That book, entitled Adopted Like Me, My Book of Adoption Heroes, was really fun to write. But the consent forms — no offense, dear editor, if you're reading this — are proving to be a bit of a rather large pain. I'm not going to name names of folks who are difficult to pin down. But, did you know Shania Twain was adopted by her dad? Debbie Harry of Blondie fame was adopted at birth. Steve Jobs was adopted. I have consent from Nelson Mandella and writer Sarah Saffian. I also have been promised consent from Arn Chorn-Pond, a man who began life in Cambodia, was a child soldier and was adopted as a teen. His life is committed to peace and to rebuilding his culture through music.
Hhhm. I was worried that this post was going to be a mess of stuff. But I began talking about music and I'm ending on a note about music. It all comes together!