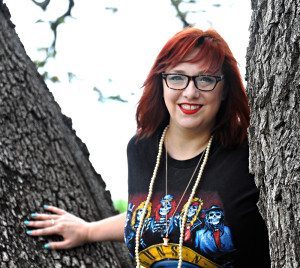 Recently, E. Kristin Anderson and I had a bit of a discussion about the importance of poetry for all writers and readers. I think the value of her poetry is that it allows readers to come in more closely to a moment or image with emotionally resonant responses. So I asked her to answer the big question — does the world need poetry? Her responses are below:
Can you tell a bit about your chapbook?
I actually have two chapbook projects that I'm hoping to share with the world. My first chapbook, A GUIDE FOR THE PRACTICAL ABDUCTEE, is fresh off the presses from Red Bird Chapbooks. It's a collection of poems about unusual creatures and paranormal phenomena. UFOs, Ouija boards, unicorns, a jackalope infestation. It's all there.
I also have a book forthcoming this fall from Finishing Line Press called A JAB OF DEEP URGENCY. This chapbook collects thirty poems I wrote for Found Poetry Review's Pulitzer Remix project in 2013. All of the poems are erasure pieces created using pages from Jennifer Egan's A VISIT FROM THE GOON SQUAD. I'm actually doing a pretty neat promotion for this book – anyone who pre-orders can get an #UrgencySquad kit, including pages from the book I used to create my chapbook, newspaper articles, magazine pages, some fun swag and a crash course on found poetry.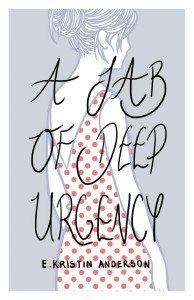 How did you come to poetry?
You know, that's such a hard question for me to answer. I think the first poems I probably read were by Dr. Seuss and Louis Carroll and Shel Silverstein, which – as I'm sure you, Ann, will agree – are not to be discounted. But the first "grown-up" poetry I encountered was by Emily Dickinson. I remember begging my mother to buy me her collected poems anthology, which was sitting in stacks on a remainders table near the register at our local bookstore, in South Portland, Maine. I spent a lot of time convincing myself (and, eventually, my poor teachers) that I was named after Emily Dickinson. So while I can't quite remember when I started writing poetry, I do know that I've always been attracted to it.
Do you have a favorite poetic form you use?
I'm terrible with meter, so I can tell you flat out that anything metrical is my least favorite form to use! Other than that, I love trying new things. This past April I participated in Found Poetry Review's Oulipost project, which had daily prompts (incorporating found texts, of course) that included things like writing sestinas and irrational sonnets (oh, you must google this one, it's so fun!) and many other forms that I may have avoided my whole life without the prompts and the peer pressure. So right now I'm definitely attracted to the idea of writing more found sestinas. That said, my current favorite form is found poetry. Particularly erasure. I'm working on a full-length manuscript of poems written using text from fashion and women's interest magazines. Some of these pieces will be printed in Cicada magazine, most likely the November issue, though it hasn't been confirmed. The editors at Cicada have been so encouraging about this project – it makes me feel like found poetry connects with readers more than I ever thought!
Can you tell readers a bit about how writing poetry paints your world?
I'm not so sure that it changes my world so much as it changes my work. I think that as a poet and a novelist, I'm finding that poetry turns up in all of my work. Not necessarily in the literal sense – though I have a tendency to quote Miss Emily D. in novels – but I think that part of the reason that I write short YA manuscripts (under 60k) is that poetry taught me to be choosy about my words, and to be concise.  I think it also helps me in my position as a freelance editor and writing coach. I can tell a client "go read this book of poems." And the client might wonder why, since they're writing a memoir or a sci fi adventure, I'm telling them to read William Matthews or Louise Gluck. But…it's about language. It's all about language.
And, damn, when I read, I want to treasure all these little phrases. I sometimes put post-its in the books I read so that I can come back to favorite pages later. And…use them for found poetry. J
Does it change you emotionally?
I think all the work we do changes us emotionally, whether it's carpentry or retail or making coffee or writing books. The people we interact with, the internal monologue we have running through our head as we put hammer to nail – our world comes back at the end of the day and makes us go, "huh." And perhaps writers and creative types are a little more sensitive to this. We're looking for it, so that we can put it back into our art. But I'm not a particularly emotional writer, if that's what you're wondering. I'm actually the opposite of folks who eat their feelings, too. When I'm depressed, I stare at a wall and forget to eat. When I'm emotionally charged, I can't focus enough to put pen to paper (or hands to keyboard). It has to simmer and process.
How do you hope it affects your audiences?
I just hope that it DOES affect my audience. And…I hope to HAVE an audience. I did this fantastic school visit via Skype with a school in Seekonk, Massachusetts last fall. The entire school had read my first book, Dear Teen Me, so I'd offered to Skype in for free. It was fun! And, to my utter surprise and joy, an English teacher told me that she'd found some of my sci fi poems in online journals and shared them with her class, and that they had questions for me. I almost cried. People read my poems. Wow! And I told her and the students that the questions were theirs to answer, no matter what I had to say. Their truth, in regards to reading my work, would be different from my truth, and that's the beauty of literature. Of course, I did tell them that I'd never personally seen a UFO. Because that was a question that I could answer with absolute truth. Ha!
Why does the world need poetry?
The world needs art. I think art is the great equalizer. It gives us a lens with which to see each other. One book I always love talking about is ZLATA'S DIARY by Zlata Filipovic. I read this book in 6th grade, and it's the personal diary of the author, a teen in the midst of the Bosnian war. That book made me feel like there was a world outside what I could see and touch every day. That there were people just like me who looked different and spoke a different language but who wanted and felt and loved the same as me. It made me a world citizen. Art does that better than any news program ever could.
Aristotle once said, "Educating the mind without educating the heart is no education at all." I think of poetry as an opportunity to educate the heart. And that leads me to ask you why do people need poetry?
See above. People need poetry because they need art. And they need art because it makes them feel – whether it's a TV show or a movie or a poem or a James Patterson novel. It makes them feel and it makes them think. It takes them away from what they see in their life, or perhaps takes them to their own life and makes them feel less alone. All these things are a reason to need poetry and art.
How do audiences respond to poetry?
I'm still trying to figure this out! I'm fortunate to be surrounded mostly by bookish, artsy folks. And I don't know how audiences at large respond to it. I'm hoping to find out by snagging some school visits this year. I'll report back after reading my poems aloud to teenagers. J
How should they respond?
I don't think there's a "should." At all. I think as long as people are being genuine, that's plenty good and fair.
Why did you choose to publish a chapbook?
 I think that chapbook publishing is part of the path of being a "professional" in poetry. It's a part of your resume. But it's also something that's easy to consume for readers, which I like. I also think that I'm more of a chapbook poet than a collection poet. The best chapbooks, in my opinion, have a sense of theme or sequence. That's extremely difficult to carry for sixty or a hundred or more pages. And there are so many wonderful chapbook publishers out there. I was excited at the opportunity to work with them. I've learned so much from my experiences with both Red Bird Chapbooks, who published ABDUCTEE, and Finishing Line Press, who are putting out URGENCY in October.
Unlike self-publishing with prose, chapbooks are perceived as a strong option to get your poetry into the world. Why publishing a chapbook a good path for so many poets?
I haven't self-pubbed yet, though It's not outside the realm of possibility for the future, should I write something too weird to find a publisher. I think part of what makes self-pubbing a chapbook more workable is that the audience for poetry is so different from commercial fiction. You're already marketing to a niche audience, which I think is where self-published fiction and nonfiction works best as well. Plus, chapbooks are so small and bite-sized. You could perhaps compare it to traditionally published authors who started out (or supplemented their list) by self-pubbing a short story or novella.
In general, though, I think chapbooks are a great path for poets. They give you a bit of a platform to stand on, a sales record, even, for when you're ready to pitch your full manuscript, or when you're sending work to harder-to-get-into magazines. We'll see how this works out for me in the coming months!
Which three poets have influenced you most significantly and why?
This is hard for me! I've read so many wonderful poets over the years. Emily Dickinson is an obvious choice, though I wasn't aware of how much she informed my work until maybe a few years ago. Her work is darker than it appears at first glance, and I love all the layers she works into each piece. I was talking about this – influential poets — earlier with a friend. William Carlos Williams was an early influence of mine (college, I guess, so not too early). And not in the way I thought he was at first. He wrote about the every day. But he also wrote about the messed up stuff. And my friend was saying that he managed to have a positive vibe about his work, despite the simplicity and the messed up observations. And I like that. Louise Gluck will have to be the last one. She really gave me a sense of what it is to write in both your own voice and the voice of a character. I read THE WILD IRIS for a class in college and was totally wowed. "Pomegranate" is a poem – I can't remember which collection it first appeared in – that really struck me. The voice is both Gluck's and Persephone's. Amazing.  And, if I might add a novelist, Francesca Lia Block, though also a poet, has influenced my poetry more through her novels than through her poems. Through her simple, elegant, fearless language. I strive to write like her (while also writing like me) every day.
What are you working on now?
As I mentioned above, I'm working on a full-length manuscript – my first, really, in earnest – of erasure poems using fashion and women's interest magazines, as well as a few teen mags. I can't wait to see the excerpts in Cicada this fall!  My favorite magazines to work with have been Teen Vogue, Glamour, and Nylon. Nylon was a fave mag of mine as an older teen/college student, so it's cool to work with. The writing is excellent. And Teen Vogue is just so smart, which I didn't expect…and which I don't think many teen mags get credit for. Harper's Bazaar and Allure are runners up. My initial thought, when I started this project, was that I would take something thought of as vapid or even sexist and turn it on its head. But I've ended up reading some really smart, fun articles on favorite musicians, lipstick (!), skin cancer, the fascination with virginity and wedding dresses…it's pretty cool. Also, I'm pretty sure my mailman is judging me for all these magazine subscriptions. Maybe I'll give him a copy of the book if and when it comes out!
If readers want to purchase one of your chapbooks, how do they do so?
Both chapbooks are available, at this time, exclusively from the publisher. You can buy A GUIDE FOR THE PRACTICAL ABDUCTEE at Red Bird Chapbooks, via this link: http://www.redbirdchapbooks.com/store/p153/A_Guide_for_the_Practical_Abductee_by_E._Kristin_Anderson.html You can pre-order A JAB OF DEEP URGENCY from Finishing Line Press. https://finishinglinepress.com/product_info.php?products_id=2133&osCsid=2kp98qbcdartjm6o9juck3cu26
And, after you do so, I hope you'll forward me your receipt. Anyone who pre-orders URGENCY becomes a member of the #UrgencySquad – a quite elite group of artists who will receive a kit with which to make found poetry, some swag from me and other experimental poets, instructions and info on found and erasure poetry, and some sweet, sweet confetti. You have to send me your receipt, or some proof of purchase, to get the kit — so don't forget!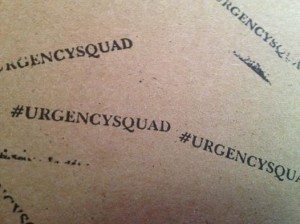 E. Kristin Anderson grew up in Westbrook, Maine and is a graduate of Connecticut College. She has a fancy diploma that says "B.A. in Classics," which makes her sound smart but has not helped her get any jobs in Ancient Rome. Once upon a time she worked for The New Yorker magazine, but she soon packed her bags and moved to Texas. Currently living in Austin, Kristin is an online editor at Hunger Mountain a contributing editor at Found Poetry Review. Kristin is the co-editor of the DEAR TEEN ME anthology (Zest Books, 2012), based on the website of the same name. As a poet she has been published worldwide in many literary journals from the UK's Fuselit, to Cordite in Australia to the US' Post Road and the Cimarron Review. Recently she's graced the pages of Asimov's Science Fiction, and she has work forthcoming in teen magazine Cicada. Kristin is the author of two chapbooks of poetry: A GUIDE FOR THE PRACTICAL ABDUCTEE (Red Bird Chapbooks, 2014) and A JAB OF DEEP URGENCY (forthcoming, Finishing Line Press, 2014). She hand-wrote her first trunk book at sixteen.  It was about the band Hanson and may or may not still be in a notebook at her parents' house. She blogs at EKristinAnderson.com.
Collage artist Wayne Brezinka is working as I type this to create the cover for Things I'll Never Say, the Candlewick anthology about our secret selves. His art reflects the stellar young adult stories from award-winning writers.  It's going to be a gorgeous book.
The images below are samples of his style from a series he created called Famine. I've linked his name so that you can look at more of his work which is provocative and powerful.  This will have to keep you happy until I can post the actual cover. So stay tuned.
BTW, In case you want to post this on your calendar, the anthology is scheduled for release on March 24, 2015.