The New Adult market, labeled the sexed-up version of Young Adult literature, currently carries the burden of proving to detractors that it can also be great literature containing significant and relevant themes. While reviewers have tagged New Adult fiction a "hot new category" but "too sexy" and headlines have accused writers of the genre of putting "smut fiction" on the bestseller list, the New Adult market is simply that – a market. It is not a genre even though it is almost always defined as romance.
According to teacher and writer Ricki Thompson, New Adult benchmarks include
point of view characters who are out of high school and looking at the college experience
young adults experiencing their first sexual relationship
young adults exploring independence that goes beyond the high school and family experience
However the market is perceived, it claims an amazingly large readership that translates into huge profits. But while New Adult novels often contain more sex and illicit behavior, most writers tackle their writing with the clear hope of telling a story that reflects the lives of college-aged teens in a way to help them explore the complexities and realities of life after high school. There are also writers in this market who might have older characters in sexual relationships but who have a lot more going on in their lives than sex and independence. Instead of worrying about the market, maybe writers could expand the definition of the New Adult market to get with strong literary themes. Instead of focusing on romance, we might consider working on a literary narrative which Wade Rawlins, editor of the Raleigh News and Observer describes as "the dirt path that leads us through the impenetrable forest, so we move forward and don't feel lost."
I like that idea. In fact I think we might write a novel about a 19 or 20 and 22 year old but let's explode the NA theme and push those boundaries. Let's create a character whose post high school focus isn't on college or that first big job or sex, but someone who is focusing on survival in a poverty stricken urban environment or a rural backroad or in the sort of violence that seems to be prevalent in our culture.

I like to think that's who author Jo Knowles is coaching when she says, "Right now,      your words float around this character, sometimes touching her skin. I want to see you use them to pierce her skin, and go underneath it. To give this story depth and purpose, you need to write close to the bone. Be brave. You can do it!" I quote Jo because I believe the writing itself – the craft of filtering through character, pov, voice and tone — raises the bar on New Adult works. But we writers can also explode the genre as agent Donald Maass encourages in his book on craft, Writing the Breakout Novel. There are books out that that achieve this and they can be our models:
Kirkus Reviews describes author Mark Zusak as one of those authors who has pierced the skin of life with his NA character in I Am The Messenger and, in doing so, he has created a substantial theme :
Meet 19-year-old Ed Kennedy who slouches through life driving a taxi, playing poker with his buddies, and hanging out with his personable dog, Doorman. The girl he loves just wants to be friends, and his mother constantly insults him, both of which make Ed, an engaging, warm-hearted narrator, feel like a loser. But he starts to overcome his low self-esteem when he foils a bank robbery and then receives a series of messages that lead him to do good deeds.
Constantly, I'm asking myself, Well, Ed—what have you really achieved in your nineteen years? The answer's simple.
Jack shit.
The Midnight Coffee Monster reviewed this book's complex themes, saying, "Reading this book, I scrutinized the way I interact with strangers as well as people I know. The do-good aspect largely sits at the center of why I relish this story, because a number of bad events drop like bombs and, when pushed down far enough, it happens: people lose faith in people and in our ability to pay it forward. Not because we expect the same in return, but because it's the 'right thing' to do."
So let's look at more titles on the market that may or may not have been identified as NA that try to make sense of our violent culture:
  Scowler by Daniel Kraus– Billed as "Equal parts haunting and horrifying, this literary horror novel gives readers insight into the mind of a controlling homicidal man and the son who must stop him," this novel calls attention to domestic violence in an unforgettably chilling tale of a boy whose earlier memories include snipping sewing stitches from between his mother's fingers and toes to release her from the bed her husband has sewn her to.  Although these scenes are some of the most disturbing you are likely to read, Karen Jensen, a youth services librarian at the Betty Warmack Branch Library in Grand Prairie, Texas, said, "There are hands down some of the most disturbing scenes that I have ever read in 'Scowler,'" she wrote, "but they moved me to compassion for our main character and his family. I think they also make you think about the cycle of abuse and violence that can happen in the lives of our young people."
In a starred review, Booklist said of Chris Lynch's Kill Switch, "Lynch's writing, parched with desert-dry humor, is so fine that a breakfast table conversation is just as gripping as the paranoia-laced scenes of the trio evading a shadowy doom. A compact, frayed-nerves bundle of brilliance.  This story of a post high school guy who takes a summer journey with his poor grandfather who suffers from dementia only to discover his grandfather has a hidden past as a hitman, made Lynch so curious about the disintegrating tourist town setting of Lundy Lee that Lucky Buoy, his short story in the anthology Things I'll Never Say is also set here. Lynch told me he's creating an entire series of short stories set in the town.
There's also a lot of literature out there that's romance with a twist. The Fault in Our Stars explodes the romance genre when cancer riddled teen Hazel Grace tells a boy named Gus that she's not a good choice for romance, she avoids sentimentality with her words: "I'm a grenade and one day I'm gonna blow up and I'm going to obliterate everything in my wake and I don't want to hurt you." John Green doesn't play on our sympathies with this romance, surrounded as it is by the ticking clock of death. Instead he digs deeply into the meaning of life for two teens who want to live fully even if it's only for a little while. In doing so, he captures the immediacy and honesty of their lives and loves as they face death but avoid Gus's one fear — oblivion.
In turn, John Green has written about Rainbow Rowell's unlikely relationship in her novel Eleanor and Park. In a review for the New York Time's he wrote "I have never seen anything quite like 'Eleanor & Park.'…Its observational precision and richness make for very special reading." The novel takes a traditional romance and adds themes of cultural differences and a bit of nerdiness through Park's half-Korean, comic-book and good music loving character. He describes the effect of Rowell's evocative language: "The hand-holding, by the way, is intense. 'Holding Eleanor's hand was like holding a butterfly. Or a heartbeat.' Evocative sensual descriptions are everywhere in this novel, but they always feel true to the characters. Eleanor describes Park's trench coat as smelling 'like Irish Spring and a little bit like potpourri and like something she couldn't describe any other way than boy.' "
 There are novels that move even more deeply into moral premises surrounding wealth the greed, like E. Lockhart's stunningly haunting We Were Liars a romance between a very rich waspish teen girl and the East Indian nephew of an uncle who lacks wealth or stature to such an extent that the grandfather fails to call him by name. The novel unfolds to show readers the horrific consequences of the family's arrogance and elitism on this third generation.
The novel begins: "Welcome to the beautiful Sinclair family….The Sinclairs are athletic, tall, and handsome. We are old-money Democrats. OUr smiles are wide, our chins square, and our tennis serves aggressive.
It doesn't matter if divorce shreds the muscles or our hearts so that they will hardly beat without a struggle. It doesn't matter if trust-fund money is running out; if credit card bills go unpaid on the kitchen counter. It doesn't matter if there's a cluster of pill bottles on the bedside table. It doesn't matter if one of us is desperately, desperately in love.
So much
in love
that equally desperate measures
must be taken."
Let's take a close look at the themes in Laura Ruby's Bone Gap, a novel I've been obsessing on because of it's power and beauty and one I wish I had written. This is the story of beautiful Roza who is kidnapped and the only witness, a 19-year old named Finn who cannot forgive himself for being unable to identify the kidnapper. Finn is just out of high school, contemplating possible college so the NA elements are here. But there is so much more. This novel relies upon magical realism inside a contemporary rural setting while bringing readers a glimpse into survival in rural America, survival of people from other cultures in rural america. The novel contains romance and sex that just sort of happens in an incidental way. When Finn falls for a beekeeper, who also happens to be the ugliest girl in Bone Gap townspeople think he's using her. She is the one who realizes he thinks she's beautiful because he has one fatal flaw as a boyfriend. He's faceblind.
His face blindness is a metaphor for the way so many of us walk through our days completely blind and oblivious to people in our lives and it is a metaphor for how we see the people we come to love.
Author Kekla Magoon says of New Adult themes, "I would even like to see more books reflecting the college experience for teen readers. Are those books automatically NA? I'm not sure. I remember reading a series of YA books in high school that were about a girls' dorm, and girls experiencing their freshman year of college. I'm sure it was mainly fluffy and chick-lit-ish, not very literary, but I enjoyed reading about that age group. When high schoolers move on to reading adult books, I'm not sure it's because they necessarily need or want higher level reading, but because they want to read about adult perspectives and adult experiences. The same way that middle graders will read up to YA a lot of the time. So, there is a gap where YA readers could be looking to older characters, but still getting the same type of engaging story. NA classification tends to be so much about sexual content, but I think it does have potential to be more than that. I've not really thought of myself as writing NA in the past, though. I can just see potential there for something I might try in the future–a YA style book but with the type of content that is more often found in adult books…. It strikes me that there could be a lot of room in NA for different writing styles and characters who encompass a range of ages, and, yes, room for incorporating "edgy" content that manifests in lots of different ways."
There are crossover novels that deal with war and tragedy
All the Things I Cannot See
The Things I Never Meant to Tell You
My own nonfiction was called into question as having themes that were too adult for young adult audiences when Janis Joplin Rise Up Singing was published. It didn't take me long to realize that my most recent anthology, a collection of stories about secrets, would reveal that teens keep extremely adult secrets. The book, Things I'll Never Say, Stories About Our Secret Selves,  is being marketed to teens 14 and above because it deals with mature themes like teens protecting their hording or alcoholic mothers, gender issues, teens attempting sexual relationships with
teachers, and teens who refuse to take responsibility for their sexual behavior. While not labelled NA, the book which is recommended for teens over 14 doesn't feel very YA to me either. But most of the stories fail to resolve easily. I think they keep the reader engaged, wondering and sometimes haunted, long after the story ends.    There is Kekla Magoon's story of Sally John who returns home via the subway, a metaphor for how she also lives under her father's roof, filling up on rich foods to make him happy, but hiding her bulimia in "For a Moment, Underground."
My own story, "We Were Together," captures the story of Luke who loves girls so much he gives his girlfriend herpes. But it's a bit more layered in the way the main character Luke must figure out how he will face or hide his secrets within complex family relationships. Luke says, "I wonder how the truth would change the way my mom loves her boy."
For instance, in erica l. kaufman's "Three-Four Time" we meet Imogene who returns home from marching band practice to pacify her drunken mother by dancing the waltz to a Meatloaf song. Imogene who tries to protect her sister from her mother's alcoholism, says, "Her waltzes always have style although her arms are getting bonier, tattoed with smudgy bruises and raised, welted burns. She tells everyone she's clumsy but she looks pretty coordinated now, waltzing around our tiny living room."
A Chesire, Connecticut Library blog discusses the issue of the New Adult market's effect on book selection. The blogger wrote, "In general the 'New Adult' label is now applied to books with main characters between the ages of 18 and 25 as they face the challenges of leaving home, developing sexuality, and negotiating education and career choices. The books are typically about characters in the transition of becoming an adult while society still seems to consider them children. Some of the books in this category are still accessible and appropriate for teens, while others have more sexual content than most parents would be comfortable with their teens reading, and some have conflicts and situations have little interest to those that have not faced similar issues.  The majority of books currently being released under this label seem to be contemporary romance, but this is not a requirement of the genre."  The blog points out,  "Many books have cross over appeal but do not get the chance they deserve because of the labels or marketing that are attached to them." While this librarian uses the term genre for a work that clearly defines market, she brings up an important idea. If we categorize books too narrowly, they'll miss their audience. This segues into what writer and librarian Ann Matzke, said while speaking about how libraries shelve books and how their patrons make selections. She said too many books fail to reach their audience because market labels limit placement on bookstores and libraries. I think she's right and I also think we writers need to write stories that speak to our interests and themes.
Hi all,
  My secret isn't so secret anymore. In fact, it's a celebration. Happy Birthday to Things I'll Never Say, Stories About our Secret Selves.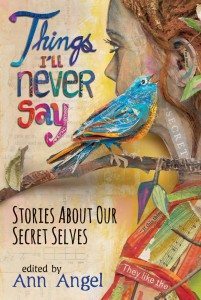 If you want to know more about why writing about our secret selves is so enticing, and so important, and so worthwhile, stop in to my panel on literary themes found in young adult and new adult writing at the AWP Conference in Minneapolis. I'll be on a panel on Thursday afternoon–that's April 9. Or come on over to Barnes and Noble in Racine on Saturday, April 18 when I'll be offering a workshop on writing about secrets.
Of course, you can always register for a graduate writing class at Mount Mary University – we'll be offering classes in memoir this summer. Fall brings short story, novel writing and creative nonfiction.
And I promise to post some story starters and writing exercises here too. So stay tuned…..