Hi all,
  My secret isn't so secret anymore. In fact, it's a celebration. Happy Birthday to Things I'll Never Say, Stories About our Secret Selves.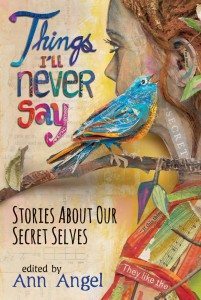 If you want to know more about why writing about our secret selves is so enticing, and so important, and so worthwhile, stop in to my panel on literary themes found in young adult and new adult writing at the AWP Conference in Minneapolis. I'll be on a panel on Thursday afternoon–that's April 9. Or come on over to Barnes and Noble in Racine on Saturday, April 18 when I'll be offering a workshop on writing about secrets.
Of course, you can always register for a graduate writing class at Mount Mary University – we'll be offering classes in memoir this summer. Fall brings short story, novel writing and creative nonfiction.
And I promise to post some story starters and writing exercises here too. So stay tuned…..