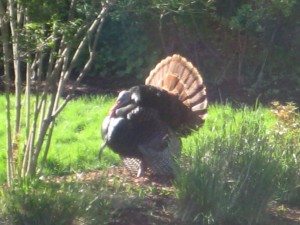 Social media experts say that you need to write a new post at least once or twice a month if you're going to develop any sort of real following on your blog. When I look at the last time I posted, I'd have to say I'm working awfully hard not to make that happen. That doesn't mean I'm not trying. It has just been such a busy year that this blog has taken a back seat to talking about writing, reading about writing and working with writers to write their best work.
Anyhow, when I'm not doing that, I've been watching these crazy turkeys that hang out in my backyard. They remind me of the roadrunner, the way they dart out from clumps of trees.
This isn't to say I'm going through a dry spell with writing as I try to sort through my days. If you want to see what I'm reading and thinking about, you might want to head over to The Pirate Tree, a children's literature site devoted to issues of social justice. I write twice a month for that blog.
I'm also doing research on famous adoptees for a book contract called, aptly, Adopted Like Me, for Jessica Kingsley Publishers in the UK. And I've been researching a YA book on trafficking with a focus on educating teens to be activists and advocates for their peers. But, right now, I think I'm heading out back to see what the turkeys are up to today. They are just too much fun to watch!