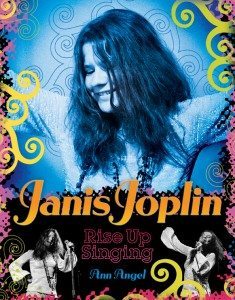 EXCITING  NEWS

School Library Journal gives JANIS JOPLIN:  Rise Up Singing by Ann Angel,
 (Amulet Books; ISBN  978-0-8109-8349-6; $19.95; ON SALE: October 2010)
A *STARRED*  review in the October issue!
êIt was 40 years ago this October  that the rock singer died from an overdose of alcohol and drugs at the age of  27. From interviews with her friends and letters that Joplin wrote home, Angel  pieces together her subject's short life, contrasting her conservative  upbringing in a small Texas town with the wild 1960s, vividly portrayed both  in descriptions and in excellent-quality, full-color and black-and-white  photos on almost every page. Joplin's husky, passionate singing voice was  appreciated by other musicians and by her audiences. She loved to sing the  blues with the misery and pain that dominated the lyrics. Bessie Smith and  Odetta were her heroines. The author points out that despite the fame and  fortune that she achieved, Joplin was basically insecure and in need of  acceptance. This book is well researched with more than 100 notes referring to  specific quotes from friends, family, and magazines. Teens will be  intrigued by the life of this cult figure. Her memory has been kept alive  by her recordings and an off-Broadway show, Love, Janis, based on letters she  wrote to family and friends during her career, which continues to be staged  throughout the country. –Peggy Fleming, formerly at Churchville-Chili High  School, Churchville, NY


Janis Joplin: Rise Up  Singing; $19.95; OCTOBER; 978-0-8109-8349-6

Events
WAUWATOSA, WI
September 29 The Little Read  Book 7 pm
WAUKESHA,  WI
June 18-19        Southeast Wisconsin Festival of  Books
AUSTIN,  TXFL
October 16-18 Texas  Book Festival 
Orlanda, FL November ALAN Workshops
Monday, November 22, 12:30-1:10
"Looking for the Readl Me Through teh LIves of Others: The Role of Biography, History and Memoir in the Search for Self."
  I'll be presenting on this panel with friends and fellow authors Ann Bausum an award winning historian and Cylin Busby, a renowned memoirist.
Please stay tuned for more listings and events!
Now I'm off to dance a star-filled happy dance!