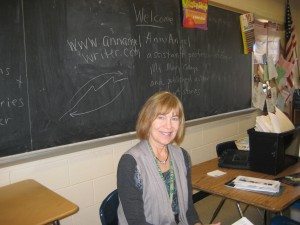 Hey Mrs' Crebbin's class — I forgot I had my camera while you were there. But I took Mrs. Crebbin's photo after you'd already left. This is your shout out!
I promised a shout out to all you Hamilton Milwaukee High School creative writers and so here you go. It was good to meet you and talk about education and writing. As I said in class, Education can save your life; writing can save your soul!
Hamilton-Milwaukee was the last stop of a two week book talk about all thing Janis Joplin.  I began my talk at the amazing Museum of the Gulf Coast in Port Arthur Texas where I met some of the women in the church choir with Janis and her phy ed teacher. I also met young fans who rushed into the talk directly from the practice field after their softball game, a few girl scouts, a young rocker who told me he'd just seen BB King in concert and Janis friends and fans who liked the idea that Janis was my hero and my cautionary tale.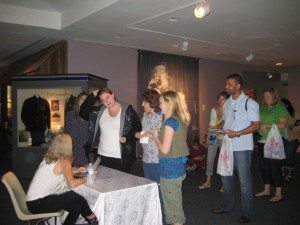 Here, I'm signing a copy of Janis Joplin Rise Up Singing for some Girl Scouts at the Museum of the Gulf Coast. Take a look at the amazing screened image of Janis in the background. It's a new addition to the Janis exhibit. While touring the museum I learned that a ton of stellar musicians including ZZ Topp were from this area.
From Port Arthur, I headed up to Austin and spoke at the Texas Book Festival where I was amazed to see an audience so large that the fire marshal closed the door and refused people entry. Sorry folks, I'll come and talk again if I'm invited back!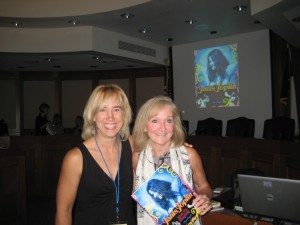 I headed home to teach and then, last night (Wed., October 20), I turned book talk duties over to three activists who use their writing to promote their passions at Mount Mary College's author series: Writers Writing about Empowerment. Kelly Parks Snider, co-director of Project Girl talked about the curriculum and workshops she offers to help educate teens about media manipulation; Philip Sutton Chard talked about the healing nature of the environment and read from his newest book —
Nature's Way;
and Amanda Angel talked about how she came to write and edit Silent Embrace, a collection of essays intended to talk about birth parents and open adoption.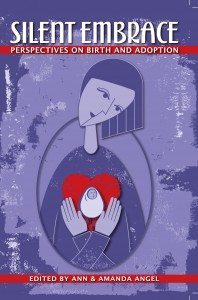 They were a stunning and impassioned panel of writers who spoke from the heart about their work.
Today, I got to speak from my heart about how writing (or visual art, or whatever impassions you) can save our souls because it connects us to ourselves, our friends, our community and our world. It can give us meaning and it can help others find meaning in their own lives. I suggested to the Hamilton students that we can find our stories in a simple object, a news event, or moment in time and, as we write, we can figure out a character's life. Often we learn something about ourselves and our world in the act of writing.
So, now it's time to take a break from chatting all of you up. I need to hunker down and write myself!
Hasta Luego!
Ann