It was hard to play this Christmas and New Year's despite loving the holidays. I hate to tell you how much I've obsessed on all things Janis, but I have. I learned that YALSA had declared Janis Joplin Rise Up Singing a YALSA Excellence in Nonfiction Finalist and that's pretty much been the only thing I've paid huge attention to lately because I get to fly out to San Diego for the award announcements.  I'm going to give a presentation and the speech for that was due December 30. Then I'll be speaking to a 6th grade class about writing biography so I created a powerpoint that talks specifically about how to research and plan a biography. That's almost done. I think I also need to put together a powerpoint of some Janis images to go with the presentation I'm giving. So I still have to do that.  Meanwhile, I've been having fun with it all and so here are some photos of that….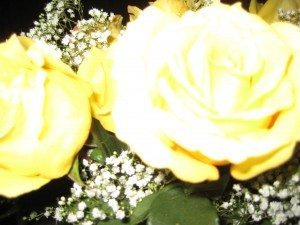 These are the roses that Abrams sent me to celebrate the announcement that Janis Joplin Rise Up Singing is a YALSA Excellence in Nonfiction Award finalist.
I've spent WAY too much time trying to figure out what to wear for this and how to pack for the two days I'll be out west. But, how could I resist the help of friends when they suggested I weave feathers in my hair for this. Aren't they great?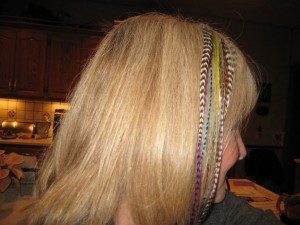 The image below isn't a photo of me getting ready for San Diego. It's me and Mickey at NCTE/ALAN. Dapper sort of guy, isn't he?