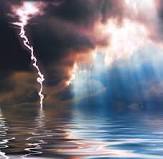 Writer Bruce Black (www.wordswimmer.blogspot.com) invited me to be part of the My Writing Process Blog Tour. I think he might have realized that we're a bit like salt and pepper or sun and storm in personality. His blog on process demonstrates a calm that I covet, while my own writing process is definitely a storm!
Writer JL Powers will be following me (http://jlpowers.net/blog-posts/). JL is an amazing YA writer who also developed Thepiratetree.com, a children's literature blog that focuses on themes of social justice. But before we turn to JL, I've got to tell you a bit more about what my chaotic, storm-riding writing life is like…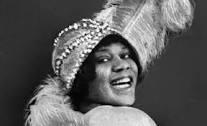 What I'm working on: · Call me chaos. Seriously, I have got to get more organized about my writing!  I've   always got a few projects going at once so I'm researching Bessie Smith's life for a possible biography, I'm tweaking a picture book biography, revising a novel about a ghost sister and I'm working on the proofs for an anthology Things I'll Never Say, Short Stories About the Our Secret Selves. The one thing I'm not doing right now, which makes me feel like a total slacker, is working on a brand new piece of fiction – which I think of as the heart of my writing. I crave being in that creative space, but, all these other projects create a chaotic vortex and I think something has to be completed before I'll feel free to tackle new work.
How my work differs from others of its genre: My biographies always have a clear narrative perspective so, when I wrote the biography of Robert Cormier (for those who might not know who Robert was, he was an iconic YA writer who was also one of the most censored authors in his lifetime and even ten years after his death), I wrote from the perspective of what it would be like to be a teen growing up with Robert as his or her father. My research focused heavily on interviews with his 3 daughters; I was sorry that I was unable to meet his son because of schedules. My biography of Amy Tan, aptly named Amy Tan, Weaver of Asian-American Tales, speaks directly to teens about Amy's own mother/daughter relationships. In contrast, Janis Joplin, Rise Up Singing is written from the perspective of a fan crush, a fan whose heart broke when Janis self-destructed.
Why I write what I do: I write biography because I think we can learn so much about how we want to live from the lives of real people that we admire. I write fiction to explore the world and expose the hearts of imperfectly marvelous loveable teens. They're usually good girls who make bad choices but, in the anthology, I wrote a story from a guy's perspective. He's a good guy who just makes bad choices. But we learn from those choices in our own lives and I hope my characters learn from theirs.
How my writing process works and sometimes fails me: My writing process works because it involves a LOT of revision. I think I revise my work anywhere from 10 to 15 times before I feel like it's any good at all. But all these projects can undermine the creative sense of discovery. Right now, everything's on a deadline. That is something I need to fix.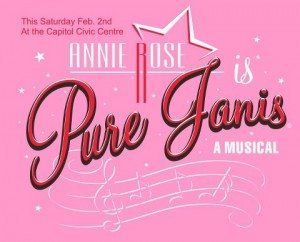 Here are the details:
The Annie Rose Band is producing a Janis Joplin Tribute to be held Saturday, February 2 at the Capitol Civic Center. And I'm gonna be on stage! Really! It's true! I'll come on at the beginning and say hi, tell folks why I love Janis so much I wrote a book about her! And then I'll walk off-stage and listen to all things Janis. For the record, I won't be singing, not even lip syncing, which is a very good thing. Annie Rose can handle the singing herself. She has an amazing, amazing, amazing — is that too many amazing's? I don't think so — voice. I'll try to post photos and maybe even a video next week.
Here's Annie Rose……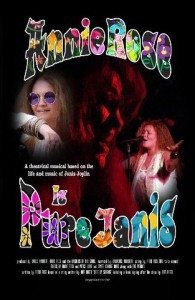 After the concert I'm going to go back to being just me. I'll be back to reading student work and writing. Oh, I'm also gathering British consent forms from living and recently deceased subjects for a new book due out in September. That book, entitled Adopted Like Me, My Book of Adoption Heroes, was really fun to write. But the consent forms — no offense, dear editor, if you're reading this — are proving to be a bit of a rather large pain. I'm not going to name names of folks who are difficult to pin down. But, did you know Shania Twain was adopted by her dad? Debbie Harry of Blondie fame was adopted at birth. Steve Jobs was adopted. I have consent from Nelson Mandella and writer Sarah Saffian. I also have been promised consent from Arn Chorn-Pond, a man who began life in Cambodia, was a child soldier and was adopted as a teen. His life is committed to peace and to rebuilding his culture through music.
Hhhm. I was worried that this post was going to be a mess of stuff. But I began talking about music and I'm ending on a note about music. It all comes together!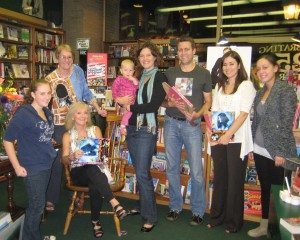 Yesterday I went with my husband to a sports' superstar's booksigning. And, because it was a book signing, we both bought a copy of the book along with the 400 or so folks standing in line with us.  I figured I'll donate the book to a fundraiser for a friend's grandson who has a seizure disorder and will probably be wheelchair bound the rest of his life and, if I want to read the book, I'll borrow my husband's copy.
As we waited in the line which wound around a gym, my husband asked if I wouldn't love to have that many people at one of my book signings. "Sure," I said, "but it's been awhile since I've hit a 3-pointer."  The line moved quickly into a cordoned off area where a burly woman in a hot pink sports polo slapped her arm out at my chest and barked, "Stop here! Hand him the book!" In case I didn't get who the burly woman meant, she pointed across my chest to a guy who doubled as security and official book opener. He opened the book to the wrong page for signing and set it in front of the superstar who signed it, smiled and handed it back. And I want to pause here to tell you that I will always like and admire this superstar for that shy smile.
But I thought about my husband's question, the idea of having that many folks waiting to get a book signed by a superstar and I answered my husband's earlier question with a second, more honest answer. Sure, I'd love to sell as many copies of Janis Joplin as this sports superstar. But I like my book signings better. I get to connect to each reader who waits in line. I get a moment to talk with readers about Janis or who and what else inspires us. They share what they're reading or what they loved about the last book they picked up. And I go home with a booklist and feeling like I've just made a whole new group of friends and I can't wait to write for them again.