Guess what I'll be teaching this fall. Yep. You guessed it. Novel writing. This isn't my first experience with novel writing. I've got six of my own novels in various stages on my computer files, in fact. And I've taught Novel Writing many times before. But each time I do — even though I'm always focusing on the specific elements of craft such as filtering voice through character and plot and story arc — I learn more about myself as a writer. And I discover new ideas, methods, and insights into the way I teach.
Through teaching, I've discovered I'm a writer who focuses on structure. I'm always looking for the story arc, the rise and f
all of tension, and the truth of a character's character when working to solve his or her own problems. The character, I realize, has to be structured to respond logically — given his or her personality, quirks, upbringing and significant problem. I recommend students read Erik Erikson, a psychologist who had strong insight into personality and characteristics as well as the contrasting ideals of these characteristics.
In revision, I can see what students need to do in order to deepen character and to build true tension, but for myself? I sometimes become a bit discouraged that, once again, I've protected my characters from pain and often stopped short in those earned scenes in which the character might need to get hurt or to hurt someone they love. But it's fixable, I tell my students and myself. "Grit your teeth and get back in there and let your characters knock each other down."
I'm keenly aware of the difficulty and joy of writing a longer work; I admire the beauty of layered characters, the intensity of a well-delineated conflict, the beauty of a scene filtered through a primary character. I'm not the only teacher/writer who falls in love with a novel because it manages this. So this semester, I plan to bring Jane Vandenburgh's Architecture of the Novel into my classroom with the hope that students really digest this thoughtful guide and keep it as an excellent resource. I've found myself relying heavily on it this summer as I revise a novel that started out being a sappy mess and is only, after three years, taking shape.
I'm also bringing in essays from Tin House so that my students have the opportunity to hear other writers talk about the pleasure and pain and details of crafting their work.
I wonder — what handbooks and essays help you define your writing style? Let me know!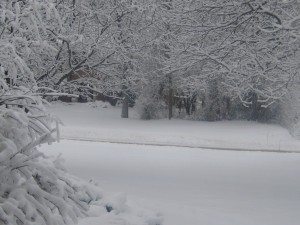 The view from my front door is pretty enough to remind me of Camelot. But winter in Wisconsin is cold and gray.
I'm not actually writing in a snowstorm. I'm writing in my house which is warm except where I actually sit at my computer; this corner is probably the coldest corner of the house. In fact, it's so cold I sometimes wear fingerless gloves while I type. So here I am typing and for the third week in a row a storm is brewing outside. We're being promised 3 to 7 inches, depending upon which weather guy offers the news.
This is the coldest, darkest part of a Wisconsin winter, made even more so because I'm writing and reading constantly but without the sense of joy and light that being totally in a creative zone can bring. So I yearn for warm weather and sun inside my own head and outside.
My writing includes proposals for Mount Mary to bring new offerings to our graduate writing program and it includes emails to students suggesting major revisions. These are all worthwhile pieces of writing. But they're not the sort of creative writing that leads to all things imagination. There is one small glow — I'm writing a picture book biography of my friend and poet Lenard D Moore.
Lenard will be performing his poetry in a spoken word performance at Mount Mary on April 9. He'll be accompanied by the Dennis Klopfer trio. Immediately preceding this event, the English graduate program is hosting a wine and dessert pairing/author reception. There is a donation request for this part of the event to help offset the cost of bringing such strong writers to our campus. If you'd like to learn more or make reservations, please go to this link:  http://moorepoetry.brownpapertickets.com/
But back to this picture book I'm working on. Lenard, who is a master of haiku seems to have always measured his life in seasons and so I'm using that metaphor to write about what it was like for Lenard to grow up in the rural south. Writing this is the glimmer of light that I hope will keep me warm until spring finally comes.