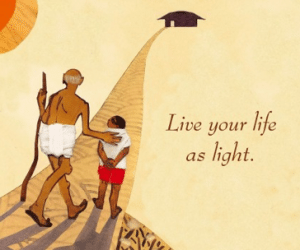 My friend Bethany Hegedus wrote an amazing picture book about a grandfather, family and the search for peace.  Reading Grandfather Ghandi reminded me that my own life is often lived in a whirlwind of activity and movement from one thing to another, coupled with the strangely engulfing fear that I'm losing something. But what? I worry that I'm losing time to write even when I'm writing. More important, I fear I'm so busy I'm losing the chance to connect to friends and family. And they might be losing the same.
The whole cycle of being too busy to live fully in the moment turns anxiety to anger and fear. I don't like how I act when I'm in that space. I need to change it.
For instance, this morning, I woke up aware that I still haven't resolved a recent telephone conversation with my daughter in which I was super-crabby, sitting with my shoulder wrapped in ice, hating that I hurt, and wishing my daughter were with me rather than 6 hours away. I took it out on her by being wickedly critical of everything and everyone. I was far from peaceful and far from feeling the light of my life. I imagine it made her feel she was in the dark corner with me. So, this morning, when I saw this pledge on facebook, I decided I'd take it. Then I'd share it. But I also want to take this opportunity to publically apologize for allowing myself to be caught up in the busy-ness of life rather than the light of conscious being. Here's the pledge to live your life as light in case you want to join me — and now I'm going to call my daughter and tell her I love her.
The "Live Your Life as Light" Pledge
I pledge to listen to my anger, to see what it has to teach me.
I pledge to not bully or cause harm, with words or with weapons.
I pledge to look for the light, to see it in every situation.
I pledge to find my own unique tools and talents.
I pledge to forgive myself and others. I pledge to live my life as light.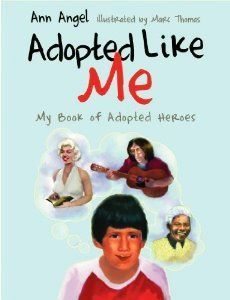 Hey all, Look what's available now….
I wrote a blog for the Children's Literature Network about how this book came out of an email from an editor who knew I write biography and that I'm an adoptive mom four times over. It was a labor of love, a way to make sure my young adults know that I want them to explore the world and pick and choose heroes who will speak to their own talents and interests.  But it also speaks to children in kinship care like John Lennon. Kinship care is an informal adoption in which a child is raised by relatives. Marilyn Monroe was raised in guardianship after her birth mother became too ill to take care of her. Do Diddley was adopted and so was Nelson Mandela. I loved learning about the people whose stories are included in this book. And I hope it's read by families united in adoption as well as folks out there who hope to learn more about adoption and being adopted.
You may have to special order from your local Indie bookstore  or you can order this from Amazon or Barnes and Noble. I thank you in advance for putting out the word that adopted kids turn into adopted heroes!