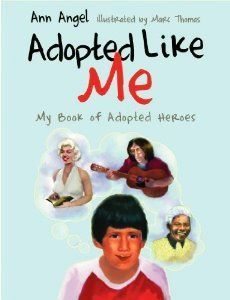 Hey all, Look what's available now….
I wrote a blog for the Children's Literature Network about how this book came out of an email from an editor who knew I write biography and that I'm an adoptive mom four times over. It was a labor of love, a way to make sure my young adults know that I want them to explore the world and pick and choose heroes who will speak to their own talents and interests.  But it also speaks to children in kinship care like John Lennon. Kinship care is an informal adoption in which a child is raised by relatives. Marilyn Monroe was raised in guardianship after her birth mother became too ill to take care of her. Do Diddley was adopted and so was Nelson Mandela. I loved learning about the people whose stories are included in this book. And I hope it's read by families united in adoption as well as folks out there who hope to learn more about adoption and being adopted.
You may have to special order from your local Indie bookstore  or you can order this from Amazon or Barnes and Noble. I thank you in advance for putting out the word that adopted kids turn into adopted heroes!
Although I've always loved to write about real people, I didn't actually set out to be a biographer. There were times I refused that role and worked exclusively on fiction.
But I am a biographer and nonfiction writer. In fact, I've been teaching these forms to graduate students at Mount Mary University. I have some expectations when I teach and so I thought some of you might want to know a few simple rules — I don't think of these as guidelines. They're really rules because if you don't abide by them, you're writing fiction.
1 — Always try to find two sources who agree on the details. This rule could save you a ton of embarrassment because you chose to believe one source only to learn that source was inaccurate or had a personal agenda that shifted or twisted the truth of an event.
2 — Never ever make up quotes. This means you only quote what witnesses heard and reported or the subject wrote or said and you attribute each quote to the source.
3 — Never make up scenes. But you can interpret them based upon what witnesses say. For instance, Myra Friedman told me that Janis Joplin was concerned about the way she looked and feared she was starting to look old. She also told me that Janis had a great sense of humor. Any story that Myra told about Janis in the book, Janis Joplin, Rise Up Singing, also includes Myra's views on whether Janis was worried or purposely being funny or provocative.
4 — Use a self-effaced narrative style. This means you are the one telling the story, but you're a bit invisible, like a reporter. But you can write in close 3rd person and choose language to demonstrate the passion you have for this subject. For Janis Joplin, Rise Up Singing, I believe I wrote from the perspective of a fan crush….a fan who loved her flawed hero and was devastated to learn that Janis died because of a drug overdose when became my cautionary tale.
5 — Do not make up a narrator. Ever. This means you can't create a fictitious bystander and set that narrator in scenes to tell the story of a famous person or event. That would be historical fiction.
In my newest book, Adopted Like Me, My Book of Adopted Heroes, the narrator is me telling the story from the perspective of someone who appreciates the heroes. The book contains 20 heroes who grew up in formal adoptions and in informal adoptions such as kinship care or guardianship. My goal is to help adoptees and their families recognize that adoption is only one aspect of a family and that they can achieve many great things through the strength of the relationships created by family. You can pre-order the book on Amazon or Barnes and Noble or your favorite local bookstore.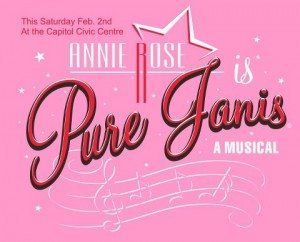 Here are the details:
The Annie Rose Band is producing a Janis Joplin Tribute to be held Saturday, February 2 at the Capitol Civic Center. And I'm gonna be on stage! Really! It's true! I'll come on at the beginning and say hi, tell folks why I love Janis so much I wrote a book about her! And then I'll walk off-stage and listen to all things Janis. For the record, I won't be singing, not even lip syncing, which is a very good thing. Annie Rose can handle the singing herself. She has an amazing, amazing, amazing — is that too many amazing's? I don't think so — voice. I'll try to post photos and maybe even a video next week.
Here's Annie Rose……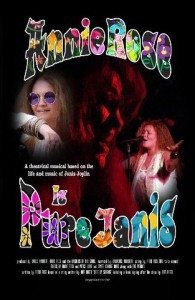 After the concert I'm going to go back to being just me. I'll be back to reading student work and writing. Oh, I'm also gathering British consent forms from living and recently deceased subjects for a new book due out in September. That book, entitled Adopted Like Me, My Book of Adoption Heroes, was really fun to write. But the consent forms — no offense, dear editor, if you're reading this — are proving to be a bit of a rather large pain. I'm not going to name names of folks who are difficult to pin down. But, did you know Shania Twain was adopted by her dad? Debbie Harry of Blondie fame was adopted at birth. Steve Jobs was adopted. I have consent from Nelson Mandella and writer Sarah Saffian. I also have been promised consent from Arn Chorn-Pond, a man who began life in Cambodia, was a child soldier and was adopted as a teen. His life is committed to peace and to rebuilding his culture through music.
Hhhm. I was worried that this post was going to be a mess of stuff. But I began talking about music and I'm ending on a note about music. It all comes together!